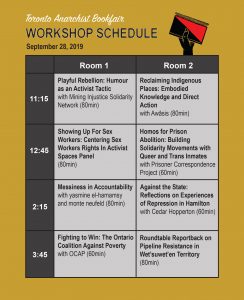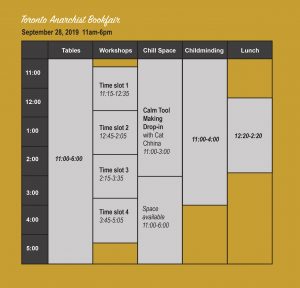 For a higher-quality versions, see here: Full Schedule   Workshop Schedule
Time slot 1
Room 1: Playful Rebellion: Humour as Activist Tactic 11:15-12:35
Description: The violences and injustices that face our world today are enraging, devastating, and quite often immobilizing. In our resistance and our attempts to build new kinds of worlds, we can come to take ourselves very seriously. Many of us break down, burn out, and disconnect from our communities in the process. This workshop will explore how activists can use humour, play, and satire as strategic tools to build bonds with like-minded (and not-so-like-minded) folks, to help people understand the ways that power works in our society, and to lift the spirits of our movements. Specifically, we will explore: how to wield humour respectfully (i.e. the ethics of humour); "punching up" vs. "punching down"; and case studies of satirical actions. We will provide opportunities for participants to brainstorm ways to incorporate more humour and play into their own organizing.
Bio: The Mining Injustice Solidarity Network (MISN) is a Toronto-based activist group that organizes to draw attention to and resist the abusive and negligent practices of Canadian mining companies, who comprise over 75% of mining businesses worldwide. We work in solidarity with communities around the world who are facing the brunt of Canadian extractivism's hunger for resources at the cost of life. Street theatre, popular education, and creative public actions are some of our favourite tools in our toolkit!
Room 2: Reclaiming Indigenous Places: Embodied Knowledge and Direct Action 11:15-12:35
Description: This interactive workshop will focus on Anishinaabe relationships to land. Through reflection on embodied, place-based knowledge and Indigenous led movements to reclaim place names, we will discuss strategies, as well as opportunities and obstacles for solidarity work. The second half of this workshop will be action oriented to explore an application of the concepts discussed.
Bio: Awâsis is a Michif Anishinaabe two-spirit water protector, writer, and spoken word artist from the pine marten clan. She talks to plants and animals, and is continually inspired by acts of decolonization, Indigenous resistance, and community healing.
Time Slot 2
Room 1: Showing Up For Sex Workers: Centering Sex Workers Rights In Activist Spaces 12:45-2:05
Description: Sex workers have been at the intersections of struggles for queer liberation, Black liberation, migrant justice, workers rights, disability justice and so much more. Despite this legacy, sex workers are often erased and excluded from movements for social justice.
The criminalization of our work and the targeted violence against sex workers is an extension of state violence and surveillance; violence against our community reflects histories of colonial violence and slavery; the stigma, shame and dismissal of our pain is coloured by misogyny, anti-Black racism, transphobia and bigotry social movements across Ontario have organized to resist for decades. Our communities have endured and continue to resist violence from all angles: state violence, an emboldened right-wing, as well as violence/erasure from within progressive movements.
At the 2019 Anarchist Bookfair we're asking the important questions:
– What does it mean for social movements to marginalize sex workers?
– How can we challenge this?
– What does it mean to confront privilege in our organizing spaces-including our movement for sex workers rights?
– How can local organizations/collectives ensure sex workers rights are uplifted in their work?
– How can you show up for sex workers in your day to day life?
Bios: Jelena Vermilion (Co-Chair of SWAP) is a sex worker and porn performer
who focuses on harm reduction- including being a propornent of decriminalization. Jelena testified in a 2018 human trafficking case which was a constitutional challenge to C-36/PCEPA.
AK Saini is a sex worker and storyteller who was recently listicled by Marie Claire Magazine as one of seven sex workers better suited for the presidency than Donald Trump. Their  work appears in various publications including Feministing, Bitch Magazine, The World Policy Journal, and The Dear Sister Anthology: Letters from Survivors of Sexual Assault. She is also found speaking on sex work throughout the news media including in the New York TImes Magazine,  Vice, The Village Voice, Mic, Salon, The Daily Beast, Ravishly, and The Establishment. They has performed and curated sex worker storytelling events and film festivals for audiences in Toronto, New York, New Orleans, Washington D.C., and Melbourne, Australia. She is a four time Voices of Nations alum and a 2018 Lambda Literary Fellow. They holds a B.A. in Political Science from The University of Toronto and an M.A. in Public Policy from McMaster University.
AANYA is a board member at Magggie's Toronto Sex Workers Action Project who has led organizing to demand Justice for Moka Dawkins. She's a DJ and producer based in Toronto. In under 2 years, she's been featured on The FADER, THUMP, Rinse FM Moonshine and NOW Magazine, a major Canadian publication around a sold-out event/party/performance and installation curated featuring exclusively feature Trans Women of Colour called "Flowers While We're Living". She's curated and played events with local underground talent as well as played with and done DJ support for major artists such as Azealia Banks, Nina Sky, LE1F, Ian Isiah, Cupcakke, and Daiburger. She has also played major festivals in Canada such as NXNE, Slut Island, among many others. https://soundcloud.com/princessaanya IG @_aanyaaaaa
Elizabeth Lorde works with Whorestories as a performer advocating for sex workers rights.
Ellie Ade Kur (Moderator) is the Chair of the Board of Directors at Maggie's Toronto Sex Workers Action Project. She is currently working on the #JusticeForMoka campaign and teaches in Equity Studies at the University of Toronto. She has been part of struggles for sex workers rights since 2009, active in movements against anti-Black racism, police violence and gender-based violence in Toronto. Ellie is interested in developing the capacities of activist movement-spaces in Toronto to tackle issues of anti-Black racism and sex-work stigma.
Room 2: Homos for Prison Abolition: Building Solidarity Movements with Queer and Trans Inmates 12:45-1:45
Description: This workshop introduces the work of the Prisoner Correspondence Project. Founded in 2007, the primarily Montreal-based volunteer-run collective is a solidarity project for gay, lesbian, transsexual, transgender, gendervariant, two-spirit, intersex, bisexual and queer prisoners in Canada and the United States, linking them with people a part of these same communities outside of prison. PCP facilitates penpal relationships between people inside and outside, runs a free resource library for prisoners, publishes a biannual newsletter that includes themed prisoner submissions, and organizes with an inside collective composed of longterm incarcerated members.
The workshop will contextualize PCP's work by examining queer/trans prisoner solidarity activism in relation to mainstream LGBT politics, religious-based prisoner support organizations, and the broader prison abolition movement. The workshop will outline the challenges that PCP has experienced over the years, and participants will strategize ways for this kind of work to expand while remaining sustainable.
Bio: Kristin Li has been involved with the Prisoner Correspondence Project since 2009.
Time Slot 3
Room 1: Messiness in Accountability 2:15-3:35
Description: In a messy world of violence, nazis, and unintentional harm, when we explore ways to prioritize care and non-disposability, how do we balance the experience of our survivors with the humanity of our 'perpetrators'? Our discussion group will explore complexities that come up when we try to center survivors while practicing accountability and transformative justice.
We hope to provide a starting point from where facilitators and participants may flesh out and reveal challenges and opportunities within the messiness of accountability in community, resulting in a skill-share of best practices.
Bio: yasmine el-hamamsy is a community educator, content developer, and plant friend.  yasmine (pronounced yes-MEAN) recently moved to Tkaronto from the beautiful territories of the Lekwungen and WSANAC peoples, where she organized with the Anti-Violence Project. yasmine is a racialized, queer colonial-settler seeking out a world of food forests and city gardens, where capitalism is dead and we all build things with the trash left behind.
montrose neufeld is long-time community educator, science-fiction enthusiast, and loving parent to a cat-shaped void. They are a white, gender queer human, and an eldest sibling, and recently returning to the territories of Haudenosaunee, Chippewa, Wendat, Mississaugas of the New Credit, and Anishinaabe peoples. Drawing from, critiquing, and admiring the utopias and dystopias of science-fiction worlds, Montrose explores how we imagine and create a beautifully queer world where we collectively give a fuck.
Room 2: Against the State: Reflections on experiences of repression in Hamilton 2:15-3:15
Description: That the state is a form of organized violence should not be a surprise, but how does the experience of this violence when it targets anarchists as repression shape our ways of seeing the world and organizing ourselves? Drawing on recent experiences in Hamilton — the Locke St Affair and Pride Defense — we'll dig into a few conclusions that people here have drawn. These include that repression is inevitable, submission is worse than defeat, building circles of trust, refusing to back away from our ideas, the value of open conflict, and, of course, never stopping.
Bio: Cedar is an anarchist from Hamilton who unfortunately has a fair bit of experience dealing with repression.
Time Slot 4
Room 1: Fighting to Win: The Ontario Coalition Against Poverty 3:45-4:45
Description: This workshop will tell the story of the Ontario Coalition Against Poverty, which for almost thirty years has been a direct action, anti-poverty organization in Toronto. OCAP believes in the power of poor people.
The workshop will describe OCAP's strategy for getting people what they need to survive, while building an anti-capitalist movement. There will be stories of getting involved, of success, and of disaster – leading to a conversation about how to ensure that the fight against poverty is at the centre of the Fight Against Ford.
Bio: Marque, Sparks, Mac, and Lesley are members of the Ontario Coalition Against Poverty
Room 2: Roundtable Reportback on Pipeline Resistance in Wet'suwet'en Territory 3:45-5:05
Description: Frontline supporters of Gidimt'en checkpoint do a recap of the intense winter witnessed in Wet'suwet'en territory – from the erection of the blockade at Mile 44, and the infamous RCMP invasion, to the current moment and moving forward.
---
Chill Space: Drop in between 11am-3pm and learn how to make low-cost calm tools with Cat Chhina.
Child Minding: Child minding will be available from 11am-4pm. Kids are also very welcome in workshops and throughout the bookfair.
Lunch: will be served from 12:20-2:20. Vegan and gluten-free options available. Free or PWYC, suggested donation of $2. Cooked and coordinated by our friends at the Apple Crisp Action Brigade, and with contributions from Apiecalypse Now!
Afterparty: 9:00pm-1:00am LOLA (in Kensington) // The RHYMETHiNK fam and the Toronto Anarchist Bookfair Collective proudly present: THE TORONTO ANARCHIST BOOKFAIR AFTERPARTY. An evening of beats, rhymes and radical raw-rah // Infamous Toronto movement-music-makers TEST THEIR LOGIK (& pals) join forces with DJ JAMS and DJ HEEBIEJABI…for this fist-lifting dance floor debrief
Facebook event: https://www.facebook.com/events/2488911244531239/